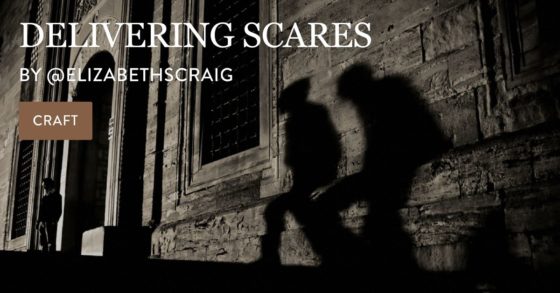 by Elizabeth S. Craig, @elizabethscraig
Hope everyone had a good Halloween. Apparently I still have scary stuff on the brain. :)
The subjective nature of fear:
I'm not usually a fan of being terrified when I read or watch something. And I think I have a very low-threshold in terms of what's scary. I recommended the first "Halloween" movie to my father last month (he'd never seen it). He was glad he watched it because he now understands a lot of pop-culture references. But he didn't think it was scary . . . and the film scared me to death. I think the scariest moment was at the very beginning of the movie when two girls were walking home from school in broad daylight and one of them, and the viewer, sees a creepy man wearing a mask by a row of bushes. It bothered me because it came out of nowhere: it wasn't even nighttime. And it took place in a public (which I equate to safe) location.
My high school senior daughter had to watch "Texas Chainsaw Massacre" last week at a school film club for extra credit for a sociology class (I know, I was baffled, too, ha). Before she left, I warned her that it was very scary. She came back to tell me that it wasn't scary . . . it was disturbing.
So I struck out twice on what was scary. To two different generations.