Welcome Readers to our Featured Author Blog tour for:
Kai Mann
Author of her second release:
Abandoned Property
.
Get your copy,
click here.
Abandoned Property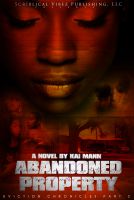 By
Kai Mann
Rating: Not yet rated.
Published: June 09, 2013
Words: 92,516 (approximate)
Language: English
ISBN: 9780984828135
Short Bio
Kai Mann
is the author of 30 Day Notice and her newly published book Abandoned Property. She is an independent contract writer for Examiner.com as Detroit's Best Friend Examiner, a member of the Motown Writers Network, and a contributor to the online poetry community. Kai's purpose is to inspire
thoughts pertaining to the themes of love, friendship, self-love, and self-progression.
Author's Website
About Abandoned Property
These characters all have something in common; they've been abandoned.
Even though their issues of abandonment stem from some of the same situations, how they play out is different in nature.
Will they go to the extreme opposite to ensure that the cycle ends with them? Or will they realize the blessings in being abandoned by people who never knew how to care for them in the first place?
Get your copy,
click here.
Writing – An Essential Part of Me Article by Kai Mann
One day while sending out copies of my first novel 30 Day Notice a clear concept came to me about my next book. The book was to be called Abandoned Property. The plot for one of the male characters Darius was given to me in detail. I use the term "given to me" because I belief that the crux of my stories come from the Creator and are not my own. I remember driving home from the post office excited and talking everything out while in the car. I can imagine now that I probably looked crazy to anyone driving near.
The full story didn't come to me until almost the end of the book. I started out writing down the characters, their characteristics on two white boards in my office. I wanted to be sure that I told who they were and what I wanted to convey in the stories about each character. As I wrote in those characteristics I would erase them until I had touched on everything for each character.
When I started to write the stories I started writing for one character at a time and decided somewhere after the tenth chapter that I should probably begin to put them in order so that the jist of the story flowed freely. There were times that I was writing chapters and was so excited by where the stories were going that I would even get up and do a little jig.
I have never written a book non-stop. I write until my thoughts of the story run out and as ideas and concepts come to me I add them to the story.
My writing style is not one of a schedule but I try to let the creativity come to me and not force myself to fill pages. I try to take the time to listen to my inner thoughts so I don't miss anything. After I have written the final page I don't go back to change anything until after my editor has looked at it. Once my editor has taken a look at my manuscript is when I go back and make necessary changes.
Writing for me is an essential part of who I am. I feel like I am in a perpetual stroke of the pen because even when I am not physically writing, I am mentally writing.
Blog Tour for Kai Mann, Author of Abandoned Property.
Books by this author:
Kai Mann (kaiology)